Insofarasmuch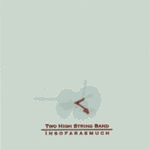 After years of playing as a trio, we invited guitarist Geoff Union to join the Band. Instantly, we felt so at home that we hunkered down in the back yard and got to work on some recordings.
David Grisman and Vassar Clements stopped by while they were in town and added their touch to a couple tracks.
From the lonesome to the lithesome, this album marks our beginning in the ongoing search for the sound. This is what we have found...insofarasmuch.
Insofarasmuch
Bunkhouse Blues
Sonny's Ride
Alabama Blues
All Day
Somewhere Between
Thanks Norman
You Can't Run Away From Your Feet
Dang, Howdy!
Old Grey Mare
Old Place
River's Risin'
Praise for "Insofarasmuch" ...