Arguably the most recognized bluegrass band out of Austin, Texas, Two High String Band are back with a new line up and a new album that some are calling their best yet. Hot Texas Bluegrass Burrito, scheduled for release in July 2009, features a mix of band originals with well-chosen covers that showcase that unmistakable Two High String Band style, while highlighting the immense talent of band members both old and new.
Throughout 12 years of touring, Two High String Band reorganized, recreated and reformed more times than they'd like to admit. But the core remained strong, and the band's center - Billy Bright, Geoff Union and Brian Smith - are ever more committed to the traditional bluegrass sound of their roots. They recruited an honest to goodness dream team of Texas musicians to unite in their efforts and the result is a new Two High String Band; one that is older, wiser and ready to roll.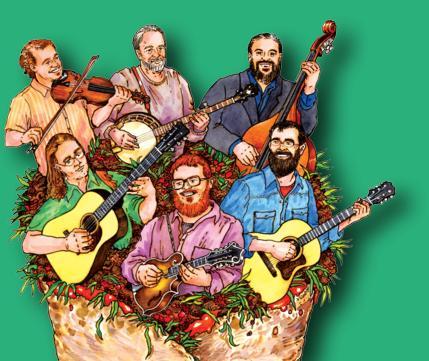 Banjo legend Alan Munde, recently retired from teaching, supplies a wealth of talent and expertise from his years touring with such acts as Jimmy Martin, the Flying Burrito Brothers and Country Gazette. Likewise, veteran bassist Mark Rubin, founder of Austin's Bad Livers, contributes the unambiguous thump of hard driving bluegrass. Additionally, THSB incorporates one of a rotating cast of expert fiddlers to bring out the rich, full sound of a classic bluegrass quintet.